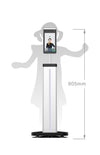 Accepting orders Now. 
◆Face Recognition,Face Capture,Face Comparison- Reconocimiento Facial 
◆Temperature Detection - Detecta Temperatura
◆Fever Warning, Mask Detection - Alerta de Fiebre
◆Support data output and Management: complete face 
capture,recognition,temperature records. - Archiva record de data. 
◆More Secure:Non-contact forehead temperature detection to
prevent cross-infection. Mas seguro no requiere uso de personal físico. 
◆High Precision: temperature detection distance
0.5-1M,0.75M is best, temperature error range ±0.3°C
◆More Efficient: face recognition distance: 0.5-2.2M
Recognition Speed/Accuracy: 200ms, 99.5%
◆Face database 30,000pcs,support date import and output. Hasta 30,000 rostros. 
◆Aircraft-grade aluminum and 7 inch ISP LCD screen 1024*600. Material de alta calidad. 
◆Easy-operation to connect to gate machine. Puede conectarce a portones, barreras o puertas. 
◆Installation site: school, community, company, office building,
super market, station etc.
◆Wall Bracket is optional, not included.
◆ Floor Pole and Table Stand is not included.
NO INCLUYE Instalación NI ENTREGA